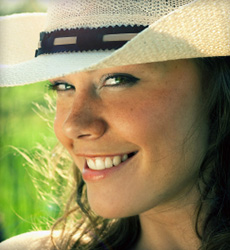 Are there certain activities you avoid simply because you have a missing tooth or missing teeth? Do you shy away from the camera? Is eating and chewing difficult because you have a tooth or teeth missing?
Having a gap in your smile can really be an uncomfortable situation, physically as well emotionally. And one, happily, that we at New Braunfels Dental Arts can repair with a revolutionary implant dentistry procedure — tooth implant (for a single tooth) or dental implants (for more than one tooth.)Dr. Alvis, Dr. Levo and Dr. Farn is pleased to offer this implant dentistry procedure and bring your smile back, better than ever.
How Implants Benefit You!
A tooth implant, basically, is almost like growing a new tooth! Dental implants are durable and look and feel like your own teeth.
Essentially, a tooth implant consists of two parts. A metal (titanium or titanium alloy) post is positioned into your jawbone and, within a few months, fuses with your jawbone. Then a specially constructed tooth is placed on top of the post.
There are many benefits to getting dental implants:
A Great Success Rate | The success rate for dental implants is remarkably high.
Long-Lasting Restoration | A dental bridge may last 7-12 years, but dental implants can last a lifetime with proper care.
Natural Feel | A tooth implant might make you forget it isn't the tooth you had your whole life. Implant dentistry treatments really are game changers! It's like you grew a new tooth!
They Look Fabulous | Smile as big and as often as you want! Implant dentistry provides you with a tooth implant or dental implants that can restore a smile that is filled with healthy, natural-looking teeth.
Eat What You Like | When you have dental implants, because they they are anchored securely in your jaw, you can eat whatever foods you like.
Keep Natural Facial Structure | When you have a missing tooth or teeth, sometimes your face can lose the natural look a full set of teeth will give it. Implant dentistry's tooth implant or dental implants treatments can bring back your face's natural structure and appearance.
Easy Maintenance | A tooth implant or dental implants are just like regular teeth. Just brush and floss them like you usually do with your natural tooth, EXCEPT you never have to worry they will get cavities!
Saves Healthy Teeth | One of the dental treatments you might consider if you have a missing tooth is to get a dental bridge. If so, the two teeth adjacent to the gap in your smile need to be prepared for dental crowns that will anchor the dental bridge. With a tooth implant, you can have that placed with no other dental procedures needed to the adjacent teeth.
If a missing tooth or missing teeth are causing you distress and you'd like to know more about implant dentistry treatments, call New Braunfels Dental Arts today!